Motortrailer
Bent u op zoek naar een nieuwe motortrailer en wilt u een motor aanhanger kopen? Dan vindt u die geheid in het aanbod van Van Laar Aanhangwagens. Een motor aanhanger is er speciaal voor gemaakt om een of meerdere motoren of andere tweewielers te vervoeren. Zo kunt u uw motor makkelijk meenemen op vakantie of naar motorevenementen. Bij ons vindt u altijd motortrailers voor scherpe prijzen en van uitstekende kwaliteit!
Aanbod
Nieuwe en gebruikte aanhangwagens kopen zoals Anssems - Hulco - Saris - Humbaur - Plateauwagen - Bakwagen - Bagagewagen - Gesloten aanhangwagen - etc.
De juiste motor aanhanger vinden en kopen
Wanneer u op zoek gaat naar een motor aanhanger om te kopen, zijn er natuurlijk veel verschillende mogelijkheden. Zo kunt u kiezen voor een motortrailer met of zonder oprijplaat. Een oprijplaat is natuurlijk een erg praktisch middel om de motor op de aanhanger te laden, maar er zijn ook zakbare/afzinkbare motortrailers waardoor u helemaal geen oprijplaat meer nodig hebt. Ook bij een motor aanhanger kunt u, net als bij andere aanhangers, kiezen voor een geremde of ongeremde versie. 
Motor aanhangwagen ook voor andere tweewielers
Natuurlijk kunt u uw motor aanhangwagen ook gebruiken voor scooters, brommers, crossmotors en andere tweewielers. Let daarbij wel altijd op de afstelling van de motorsteunen. Iedere motor of scooter heeft natuurlijk andere afmetingen en dus moeten de steunen ook anders afgesteld worden om veilig transport te kunnen garanderen.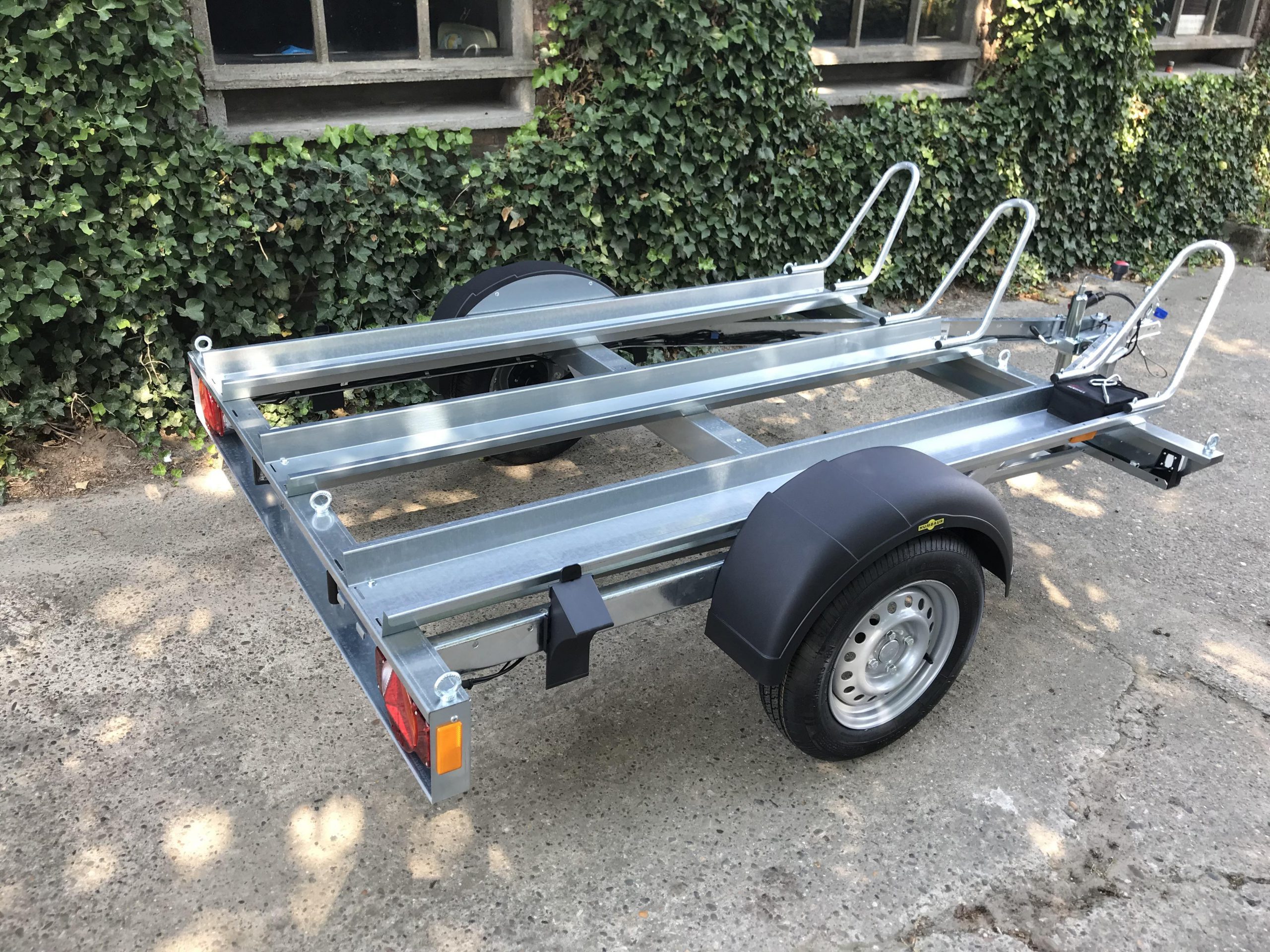 Motortrailer kopen of huren bij Van Laar Aanhangwagens
Wilt u graag een motortrailer kopen, dan neemt u contact met ons op. Dit kunt u doen door te bellen naar +31 6 26 816 033. We voorzien u dan van vrijblijvend advies en gaan samen met u op zoek naar de juiste motortrailer voor uw toepassing! Heeft u enkel tijdelijk een motortrailer nodig, dan is het niet nodig om er een te kopen en kunt u er beter een huren. Ook dat is bij ons mogelijk, net als zakelijk leasen. We denken graag met u mee!